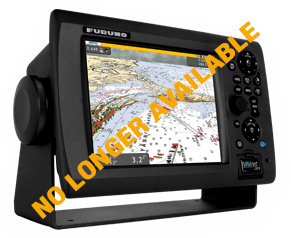 MSRP: $2,395.00
NavNet 3D 8.4" Multi Function Display W/3M LAN Cable (GPS/WAAS receiver, UHD Radar, and Network Fish Finder can be added.)
Prices and Specifications Subject to Change Without Notice.
All prices shown are in USD. Prices are valid in US and Canada only.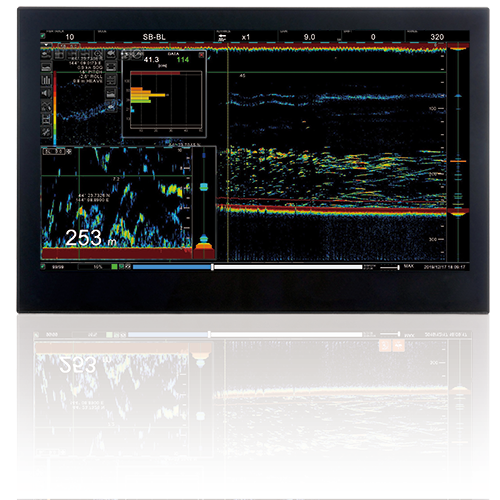 New, innovative tools for fishermen
The FCV38 introduces new, innovative features such as the target location graph, allowing the operator to track fish targets easily. Furuno's exclusive Stabilizer Technology, built into the RX and TX beams independently, allows the FCV38 to stabilize the display against the effects of pitching and rolling, ensuring the echo image and fish size measurement are accurate. When connected to a Satellite Compass™, the effects of ship's heave on displayed echoes can also be eliminated. Net sensor information can be displayed for trawlers when connected to compatible equipment, such as the popular Marport TE-155 and Imaginex TS-337A systems. The FCV38 can also output scientific and calibration data in netCDF4 format, allowing for the contribution and review of detailed fish stock assessment information.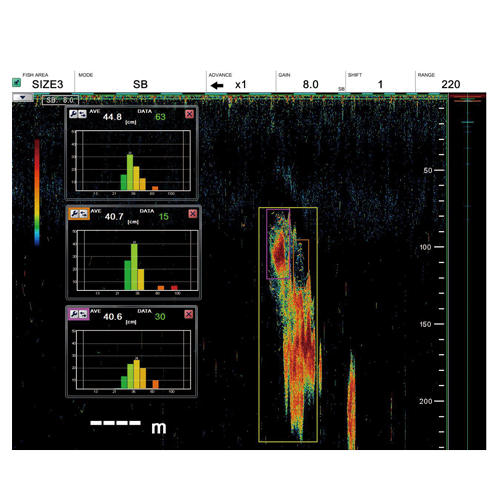 The Furuno features that fishermen love
The FCV38 includes many of the Furuno features fishermen have come to rely on. A hardness and roughness graph allows for the determination of seafloor composition, and the improved ACCU-FISH function displays up to three independent, accurate fish size estimation graphs using calculations from a newly updated algorithm. Past echoes displayed on the screen can be scrolled back, allowing you to review a history of received echoes. Changes made to the gain function are instantly applied to the entire screen, so the operator can dial in the perfect gain setting as conditions change. Recordings can be saved to an external device for later review of the data, and a simple screen grab function is also available for instant capture and preservation of important information.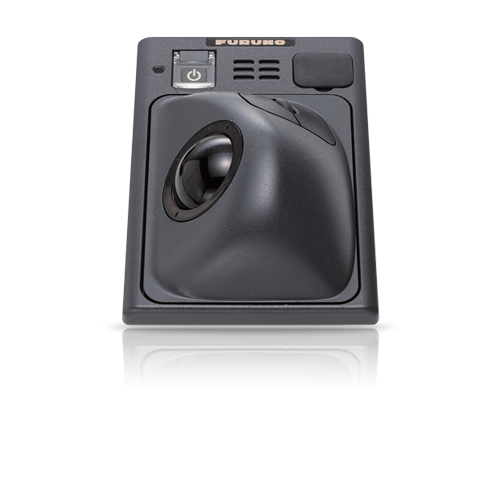 Powerful features that are easy to use
The FCV38 can be operated by its simple, ergonomic trackball. Range, Shift, Sensitivity, Image Feed, and Display Mode menus can all be accessed quickly and easily. The InstantAccess bar™ provides access to the most commonly used functions immediately, eliminating the need to navigate through cumbersome menus. Separate processor and transceiver units make installation aboard large vessels a breeze. The FCV38 is compliant with RoHS10 standards.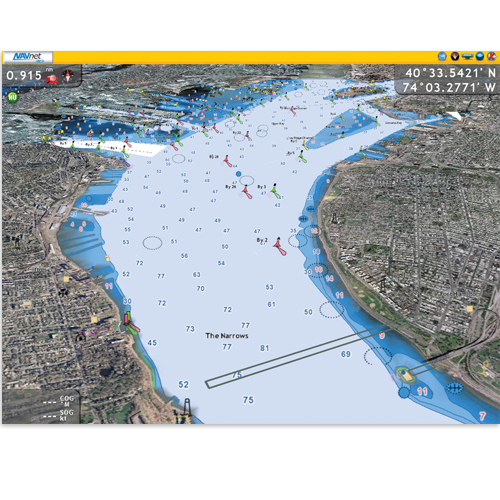 The world of onboard navigation systems has evolved
Furuno's NavNet 3D is a groundbreaking navigation system that breathes new life into the user interface. Once you start using NavNet 3D, you will be amazed at how a system so powerful can be so simple to use. NavNet 3D comes fully loaded with groundbreaking new features that will expand your navigational horizons.
NavNet 3D uses a cutting-edge technology we've named "Time Zero." Time Zero facilitates instant chart redraw, allowing for zooming in and out, changing chart display modes and other chart handling functions seamlessly and with no lag at all. Time Zero brings you a truly seamless navigation environment you have to experience to believe.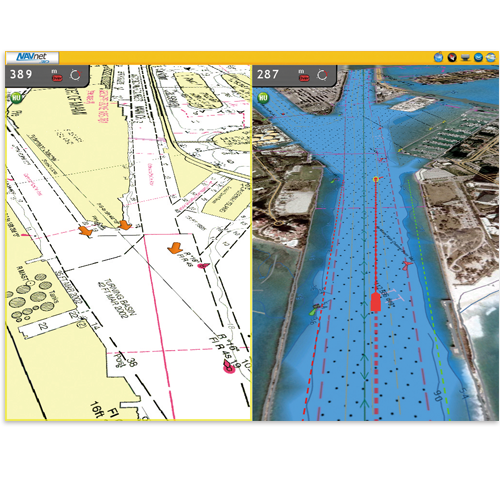 Unprecedented chart options
NavNet 3D is the only Chart Plotter on the market that allows you choose the type of charts you want to use. Your system comes preloaded with all currently available NOAA Vector (computer generated) and Raster (scanned paper charts) that are converted into the NavNet 3D MM3D format. You also have the option to purchase C-MAP by Jeppesen Vector charts that have been converted to the MM3D format. These C-MAP by Jeppesen charts are comprised of the same cartographic chart information found in Jeppesen's C-MAP MAX and C-MAP MAX PRO charts. For certain parts of the world, you can purchase Datacore by Navionics Vector charts that are based on Navionics Gold cartographic chart information. Finally, there are free Fishing Charts for the US that are preloaded on each NavNet 3D system that give you detailed NOAA bathymetric data for a variety of fishing hot spots.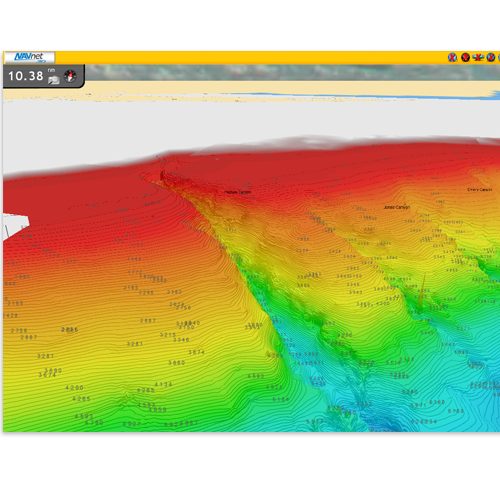 True 3D charting environment
NavNet 3D incorporates a whole new dimension into chart presentation with Full Time 3D chart rendering. You can choose a 2D top-down view of the navigation chart for a look and feel that duplicates a traditional chart plotting presentation. Or, you can choose to pan and zoom the chart to any angle at any range scale you choose instantly. There is no '3D mode' to change into and no waiting at all, because NavNet 3D operates in this 3D environment full time. There are no special 'modes; that limit your ability to navigate the way you want. With NavNet 3D's true 3D environment, you can see all of the information you want with no limitations on what information you wish to view. Plan your routes and enter waypoints directly on your raster or vector native 3D charts. Radar overlay, Sirius Network Weather Receiver, AIS, plus all of your chart symbols and depth soundings; any and all of this information can be displayed at will. This is the beauty of navigating in true 3D. You have full control over the presentation all of the time.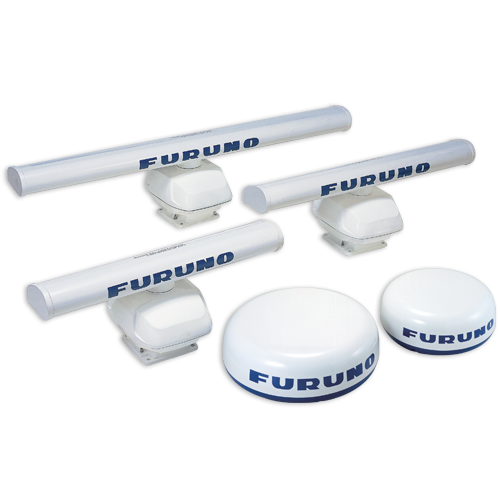 UHD (Ultra High Definition) Digital Radar
NavNet 3D integrates Ultra High Definition (UHD) Digital Radar that facilitates fully automatic, high-precision Gain, Sea/Rain Clutter and Tuning control for hands-free operation and ultimate performance. UHD offers crystal clear, noise-free target presentation with automatic real-time digital signal processing. Antenna rotation speed (24/36/48 rpm) is automatically shifted appropriate to the pulse length. Commercial-grade radar performance is now available in the ultimate MFD navigation suite. One of the amazing features of Furuno UHD Digital Radar is 'Real Time' dual range radar display, which scans and displays two different radar ranges with no lag at all. This greatly enhances your situational awareness.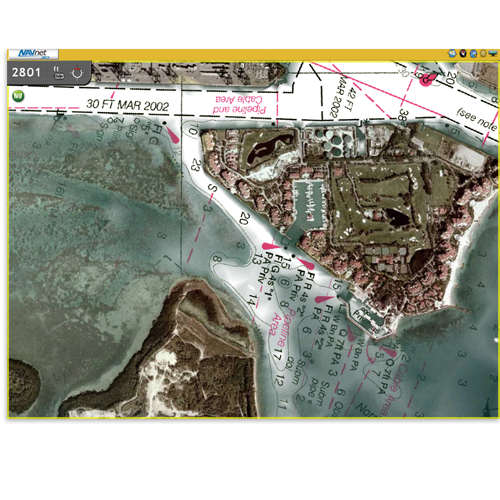 Satellite Photo Fusion brings any cartography to life
Satellite photography can be fused with raster or vector chart information. Land areas (zero depth) are completely opaque, so that these areas are displayed as satellite photos on the chart. As the depth increases, the satellite photography becomes more transparent so that you will know where the shallows end and the deeper water starts.
High resolution satellite photography aids in seabed classification so that you will be able to easily identify areas of sand, rock, coral or other obstructions.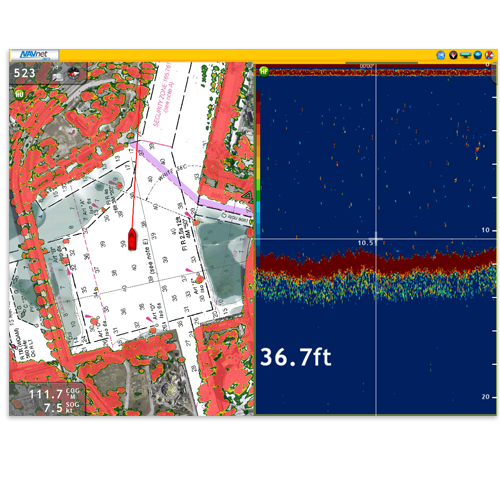 Digital Fish Finder options
You probably know about digital fish finders, but are not quite sure what the term really means. FURUNO Digital Filter fish finders feature advanced filtering capabilities and digital auto tuning which eliminate noise and deliver the ability to spot individual fish with clarity, accuracy and detail.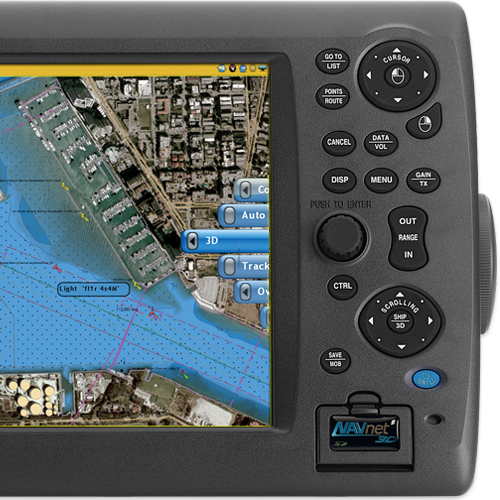 RotoKey provides full control
NavNet 3D challenges the conventional menu operating system with a whole new concept, the ROTOKEY on-screen revolving menu key. One turn of the Rotokey gives you instant access to full control of NavNet 3D.
NavNet 3D provides the easiest user interface on the market with a combination of both Rotokey and familiar point-and-click cursor pad controls. The power of the point-and-click interface allows for incredibly simple operation – click anywhere on the screen for context-sensitive options for that area. Click on any data box to access detailed information for that function. You can also connect a generic USB mouse to further simplify operation.
UHD Digital Radar Sensors
Cables
Related Products
Smart Sensors
Miscellaneous Accessories
Manuals
UHD Digital Radar Sensors
UHD Digital Radar Sensors
The PSU012 is required for the DRS4A/DRS6A/DRS12A with NavNet 3D's MFD8. The PSU012 is required with the DRS12A with NavNet 3D's MFD12.
$1,775.00
Antenna, 6 Foot Open Array
$5,500.00
6kW, 64 n.m., 4' UHD Digital Radar Array for NavNet 3D and TZtouch
$1,275.00
Antenna, 4 Foot Open Array
$5,200.00
12kW, 72 n.m. UHD Digital Radar for NavNet 3D, TZtouch and TZtouch2, less 4' or 6' Antenna
$5,100.00
4kW, 48 n.m., 3.5' UHD Digital Radar Array for NavNet 3D and TZtouch
$2,300.00
2.2kW, 24 n.m., 19" UHD Digital Radome for NavNet 3D and TZtouch
Cables
Related Products
Smart Sensors
Miscellaneous Accessories
Miscellaneous Accessories
Manuals
Manuals
$40.00
Multi-Language Operator's Guide to NavNet 3D MFD's
$50.00
OP MANUAL NN3D MFD8/12