Award Winning Fish Finders
For 41 consecutive years, Furuno has been named the Best Fish Finder in the industry by the National Marine Electronics Association. Can you imagine, 41 straight years? Its no coincidence that commercial fishermen, who rely on their Furuno Fish Finders day-in and day-out, continue to choose Furuno as the most trusted brand for their job. A Furuno Fish Finder isn't just some toy you put on your boat, it's a commercial-grade tool for finding fish!
The finest Fish Finders come from Furuno!
Furuno sells Fish Finders for all varieties of boat types and styles. From small recreational boats to commercial trawlers, there's a Furuno Fish Finder that meets your needs. Below is a brief comparison of Furuno Fish Finder offerings to help determine which works best for your needs.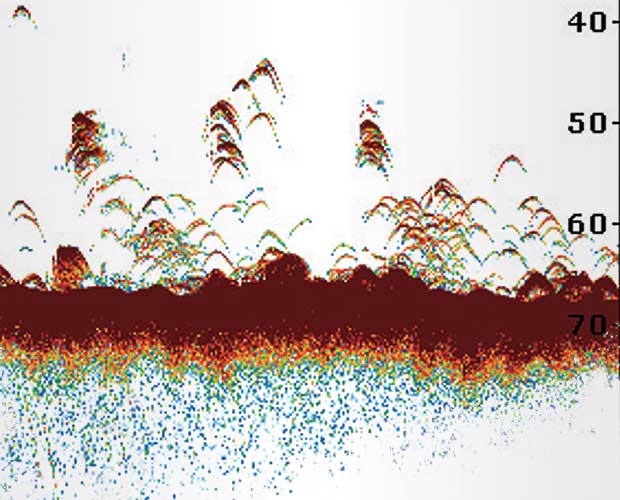 Find the fish that others have missed
Whether you are a recreational, serious sport fisherman or commercial fisherman, Furuno Fish Finder technology has a model to suit your needs. Our research and development team has spent extensive on-the-water hours coming up with the most innovative and useful features to ever be introduced. you will find rock-solid Furuno technology that will help you find fish and save time. So don't be a follower, be a leader with a new Furuno Fish Finder!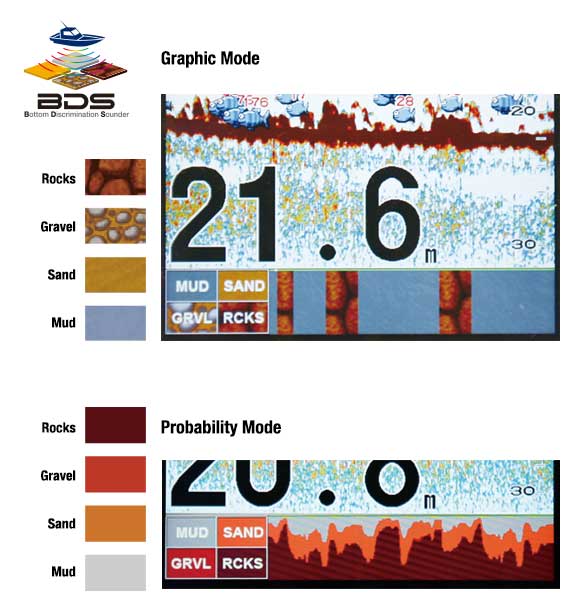 Use your Fish Finder to identify the sea floor
Knowing what the bottom consists of when you are fishing can be extremely valuable information. You may be looking for structure, the right bottom to drop anchor or a specific bottom type where your target species lives. We've taken the guess work out of knowing the sea floor make up. Furuno's Bottom Discrimination Function provides you with valuable information on the sea floor in either a graphical depiction or in a probability graph. This information will help you locate rich fishing grounds, while boosting your catch of the day.
Graphic Mode
The standard graphic display mode shows the most probable bottom composition graphically or in four colors.
Probability Mode
The probability display mode show the most probable bottom composition in graph form.

Accu-FishTM

identifies individual fish

with size and fish marks
Accu-FishTM is a revolutionary fish size assessment function that recognizes individual or multiple fish instantaneously. The echo strength from the fish is computed and turned into fish size and displayed on the screen. It can detect fish from about 4 inches to over 6 feet in a depth of about 6 feet to over 300 feet. You can also select and display the target depth instead of fish size, which gives you the advantage of know how deep below the boat the fish is located.
What electronics writers are saying about Bottom Discrimination
"There's one new feature I really liked: Bottom Discrimination. We've always been able to determine bottom type with a good sonar, but it takes some practice and a close eyeball to figure out bottom composition by looking at the thickness of a bottom line. This feature eliminates the work and the guess-work, by displaying rocks, gravel, sand, or mud, right on-screen." Lenny Rudow, Boats.com