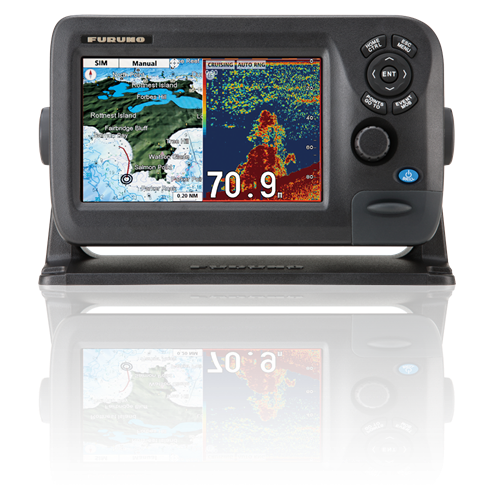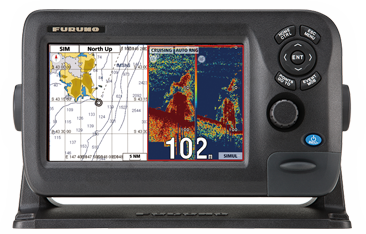 MSRP: $995.00
Price Less Transducer
7" GPS/WAAS Chart Plotter/Fish Finder w/Internal GPS Antenna
Prices and Specifications Subject to Change Without Notice.
All prices shown are in USD. Prices are valid in US and Canada only.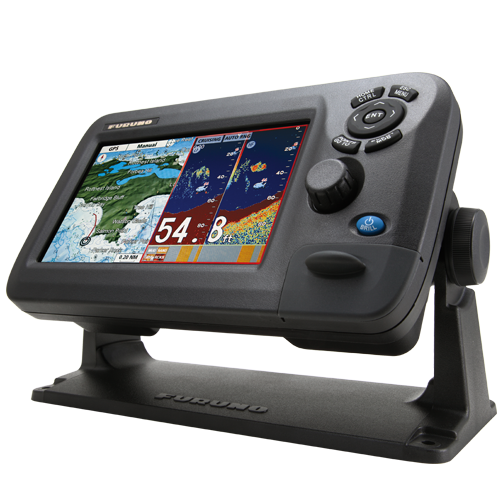 Fast, powerful and easy to use
If you're looking for the finest all-in-one color LCD unit available, set a course for your nearest Furuno dealer. The fully integrated GP1870F GPS/Chart Plotter/Fish Finder is here! Compact, waterproof and durable, this unit delivers highly accurate data and crystal-clear pictures on its 7" wide format, color bonded LCD screen. The GP1870F incorporates the best of Furuno's legendary line of Chart Plotters and adds a whole new set of user-friendly features.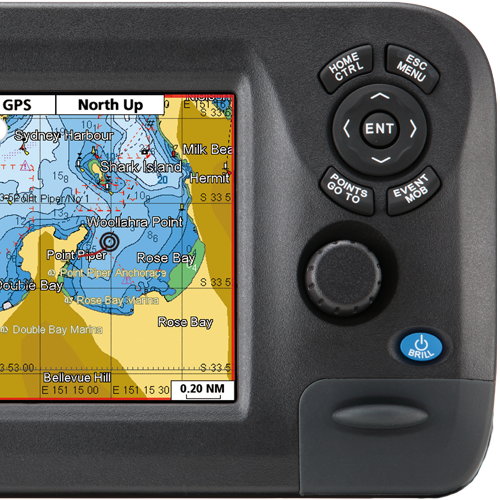 Simple interface and stress-free operation
The GP1870F features an internal antenna for ease of installation. It's dual-range display allows you to view both short and long ranges of your chart simultaneously in a split-screen presentation. Furuno's RotoKey interface allows for simple and stress-free operation. Turn the RotoKey for a finely stepped zoom control, or press the knob for full access to the GP1870F controls. The LCD screen allows for viewing from virtually any angle, even while wearing polarized sunglasses, plus the screen is bonded to ensure fogging-free operation.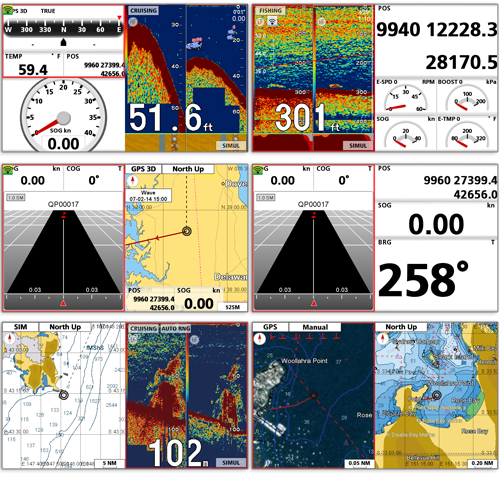 Built-in Fish Finder and selectable display modes
The GP1870F supports C-MAP 4D by Jeppesen charts. C-MAP 4D is a versatile, all-in-one charting solution that gives users of Furuno's GP1870F specific content and features needed to optimize their time on the water. The C-MAP 4D charts provide cruisers and sailors with standard vector chart content plus dynamic raster chart presentations, 3D views, satellite images, exclusive Easy Routing and more. In addition, C-MAP 4D empowers the Furuno GP1870F with a range of additional detail, content and features developed especially for serious coastal and offshore fishermen.
The GP1870F incorporates a powerful 600W/1kW Furuno Fish Finder, and introduces a host of new features. Post-Processing Gain Control allows you to view changes to the Gain setting immediately for all returns on the screen, making it easier than ever to dial in your Fish Finder for local conditions, while the White Line feature shows you fish lying on or near the bottom at a glance.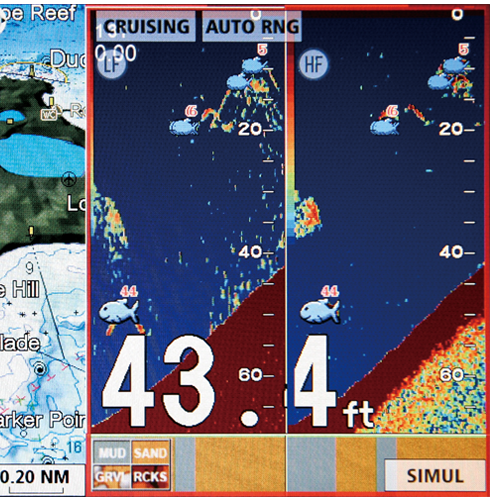 Powerful Fish Finding tools including Bottom Discrimination & Accu-Fish
Whether fishing, diving, navigating or anchoring, knowing bottom type is a major advantage for virtually any boater. The advanced signal processing of the GP1870F's Fish Finder provides a graphical display of the water column and objects in the water, in addition to showing composition of the seafloor. When connected to an appropriate transducer, the Bottom Discrimination feature provides a graphical display showing the characteristics of the seafloor as either mud, sand, gravel or rock. Amazingly, it can also show a bottom type probability curve when boating in an area with mixed bottom composition.
The Accu-Fish feature is a revolutionary fish size assessment function that can tell you the approximate size of the fish below your boat. Fish symbols appear on the screen, along with the size of the fish or the depth where it found the fish. It can detect fish size from 4 inches up to about 6 feet long, in depths of 7 feet to well over 300 feet of water. Accu-Fish signal processing blends the high and low frequencies to depict fish targets of all types simply, clearly and distinctly. Now, fishermen can clearly and easily distinguish big billfish around a bait ball, or see through bait and trash fish on the surface to target "the big one" below.
Cables
Transducers
Bottom Discrimination Transducers
Miscellaneous Accessories
Manuals
Cables
Cables
$86.00
PWR CBL ASY GP1670/F GP1870/F
$50.00
NMEA2000 Micro Cable, 1 Meter, Male-Female connectors (straight)
$60.00
NMEA2000 Micro Cable, 2 Meter, Male-Female Connector
$80.00
NMEA2000 Micro Cable, 6 Meter, Male-Female Connector
$35.00
NMEA2000 Micro Cable, 1 Meter, Female connector (straight) + Pigtail - go to 001-507-010-00
$55.00
NMEA2000 Micro Cable, 1 Meter, Female Connector + Pigtail
$85.00
Antenna Cable Assembly, 2 x TNC-P, 15 Meters
$70.00
CBL NMEA2K MICRO-F 6M S-END
$80.00
Transducer Y-Cable, 10-Pin (F) to 10-Pin (M) and 6-Pin (M)
Transducers
Transducers
These transducers enable all standard Fish Finder features, but DO NOT support Bottom Discrimination. To utilize the Bottom Discrimination mode of the BBDS1 please select a transducer from the "Bottom Discrimination Transducers" list.
Bottom Discrimination Transducers
Bottom Discrimination Transducers
These transducers enable all Fish Finder features noted in the description, INCLUDING Bottom Discrimination. If you will not be using the Bottom Discrimination mode, we highly recommend selecting a transducer from the standard Transducer List. Note that the CA50/200-12M and CA50/200-1T require the use of MB1100 Transducer Matching Box.
$980.00
Rubber Coated Transducer, 1kW (No Plug)
$980.00
Bronze Thru-Hull Transducer, 1kW (No Plug)
$330.00
Bronze Thru-Hull Transducer, 600W (10-Pin)
$190.00
Plastic Thru-Hull Transducer, 600W (10-Pin)
$120.00
Plastic Transom Mount Transducer, 600W (10-Pin)
$350.00
Bronze Thru-Hull Multisensor with High-Speed Fairing Block, 600W (10-Pin)
Airmar B744V Housing Style Transducer
$150.00
Plastic Transom Mount Multisensor, 600W (10 Pin) ID
Airmar P66 Housing Style Transducer
Miscellaneous Accessories
Miscellaneous Accessories
Manuals
Manuals
$50.00
OPERATORS MANUAL GP1670F/1870F