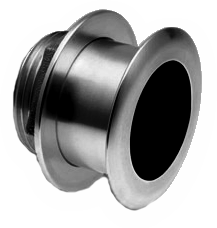 MSRP: $640.00
Stainless Steel Narrow-Beam Low Profile Transducer, 200kHz, 600W/1kW, 20° tilt
Housing TypeStainless Steel
Prices and Specifications Subject to Change Without Notice.
All prices shown are in USD. Prices are valid in US and Canada only.
Transducer Features
Airmar SS264 Housing Style Transducer
The narrow-beam broadband 200 kHz transducer will give you excellent resolution and crisp image detail needed for bottom fishing. The low ringing of this transducer is perfect for finding fish holding tight to the bottom and other structure.
Standard Features
200kHz w/ Diplexer and 10m cable
Low-profile design leaves no protrusions below the hull
No affect on your boats running performance
Fixed 20° tilt to offset for the deadrise
Narrow 6° beamwidth 200 kHz transducer
Interfaces to any 600 W or 1 kW sounder
Built-in temperature sensor