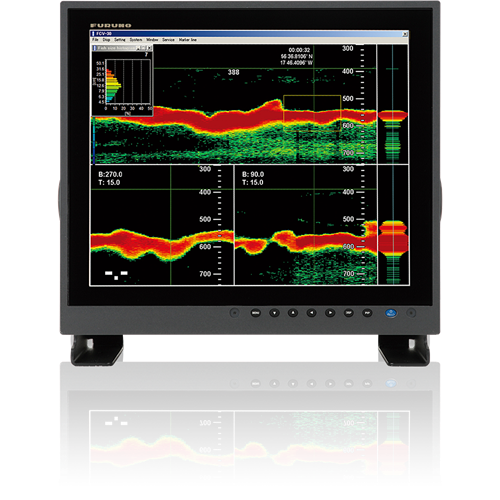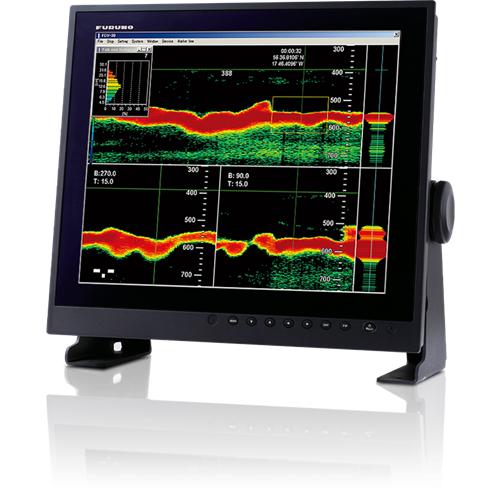 MSRP: Call For Price
High Performance Black Box Video Echo Sounder w/Transducer
Display SizeSupplied Separately
Power Usage110 VAC or 220 VAC
Prices and Specifications Subject to Change Without Notice.
All prices shown are in USD. Prices are valid in US and Canada only.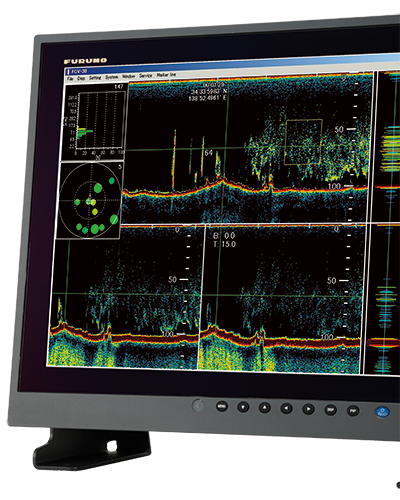 Increase your catch with a multi-directional and split-beam detecting Fish Finder
The FCV30BB is a high-performance echo sounder designed for variety of fishing applications. This echo sounder employs two new innovate techniques. One is "Multi-Beam" that facilitates multi directional and long-range fish detection. The other is "Split-Beam" which is commonly used in fish resource surveys. FURUNO's leading-edge signal processing technology makes the FCV30BB unparalleled in this class of sounder.
With a built-in motion sensor, the beam stabilizer can be facilitated to eliminate the loss of important targets due to the ship's motion in rough seas. All beams are maintained at required tilt by compensating for ship's pitch and roll. Add a Furuno GPS satellite compass to detect ship's heave as well as pitch and roll.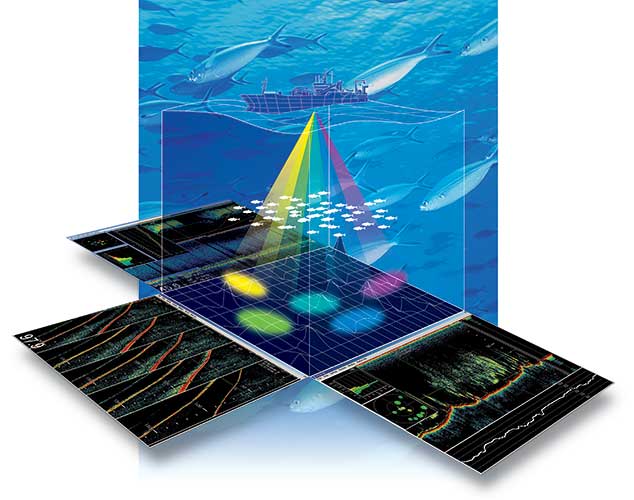 Innovative beam technology for finding fish schools
Multi-Beam
The FCV30BB detects fish schools in any five directions at the same time so that the location relative to the vessel and distribution of the targeted fish school can be recognized. The operator can set five beams at any direction within 20 degrees by menu settings.
Split-Beam
Split-beam is an epoch-making technology for analyzing the size and distribution of a targeted fish school. Split-beam allows you to analyze a fish school before targeting it for to be catch.
How long is the target fish in the targeted fish school
How the fish school moves
By analyzing the size, volume and movement of a targeted fish school, operators can easily decide what to catch and what not to catch. It is indispensable for deciding when to go for a catch and eliminates fish schools which are smaller than desired. Also, it greatly contributes to fishery resource management or fish resources survey.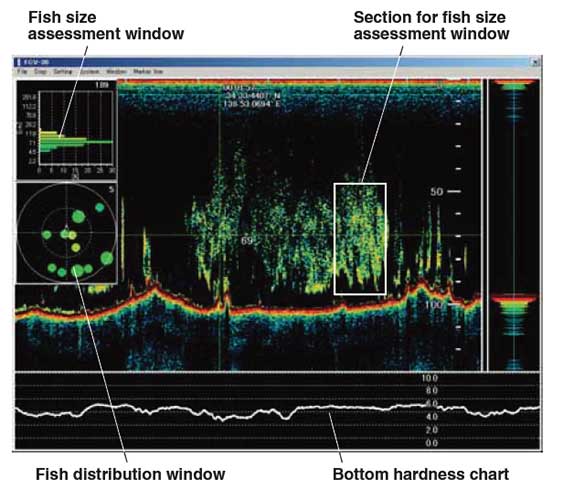 Fish smarter with Fish Size Assessment & Fish Distribution modes
Fish Size Assessment
The fish size assessment feature shows fish size within a user-selected measuring area. The bar graph shows size and proportion of fish in the measuring area selected. The vertical axis shows fish length and the horizontal axis shows distribution.
Fish Distribution
The fish distribution display shows the targeted fish's position and movement. They are shown on the circle, whose scale is adjustable between ±2 to 5 degrees under the vessel.
Product Consists Of
Related Products
Transducers
Marine Monitors
Miscellaneous Accessories
Product Consists Of
Related Products
Related Products
$4,995.00
High accuracy Satellite Compass with a compact 2-sensor antenna. Uses GPS, Galileo and/or GLONASS satellite systems to ensure the highest precision and coverage. 0.4 degree course accuracy
$9,995.00
4.3 Inch Color LCD Display, Satellite Compass with Three GPS Antenna Receivers (0.25 degree Heading Accuracy)
Transducers
Marine Monitors
Miscellaneous Accessories
Miscellaneous Accessories
$1,325.00
JUNCTION BOX W/O CBL FCV30BB
$3,100.00
CBL ASSY 02S6019 10M FCV30BB
$1,360.00
PCB 02P6337 COM CV300 FCV30BB