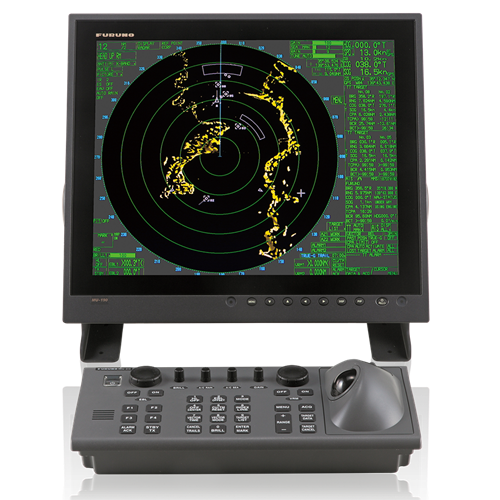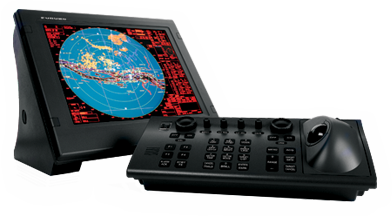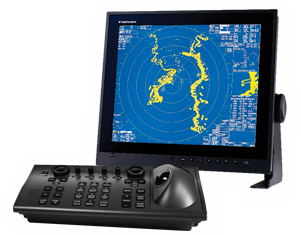 MSRP: Call For Price
60 kW Transmitter, 96 NM ARPA Radar System with 19 Inch Color LCD Display and 12' Antenna
Power Usage100-115 VAC or 220 VAC
Prices and Specifications Subject to Change Without Notice.
All prices shown are in USD. Prices are valid in US and Canada only.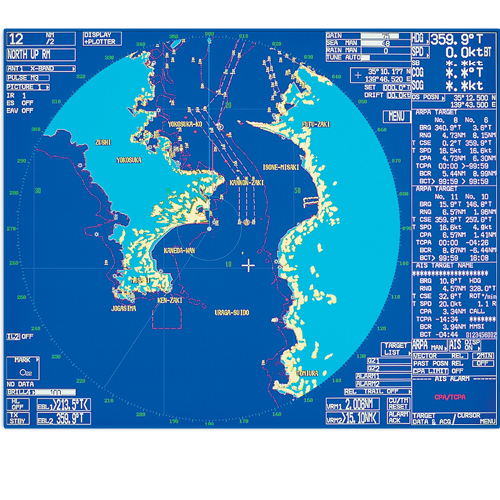 A comprehensive suite of Furuno features
The radar incorporates a Video Plotter that displays electronic charts, plots own and other ship's tracks, enables entry of waypoints/routes and makes a radar map. The chart may be displayed in combination with radar images. It is compatible with FURUNO or Navionics charts.
Marks & Comments:
Marks can be placed on the radar screen to note certain positions of importance. An 8-letter Comment can be placed near the mark to aid in identification. Marks allow a skipper to grasp the relative position between own vessel and mark locations. With this function, a skipper can enter the GPS position data* of the fishing grounds and hazardous objects for navigation such as shallow waters.. *GPS sensor required
Automatic Acquisition Zone
Two automatic acquisition zones may be set in a sector in the shape desired. They also act as suppression zones, avoiding unnecessary overloading of the processor and clutter by disabling automatic acquisition and tracking outside of them. Targets in an automatic acquisition zone are shown with an inverse triangle. The operator can manually acquire important targets without any restrictions.
Guard Zones and Anchor Watch Zone
Guard Zones generate visual and audible alarms when targets enter the operator-set zones. One of the Guard Zones may be used as an anchor watch to alert the operator when own ship or targets drift away from the preset zone.
CPA Alarm
The target tracking symbol changes to a triangle when its predicted course (vector) violates the operator set CPA/TCPA. The operator can readily change the vector lengths to evaluate the target movement trend.
Target Association (Fusion)
An AIS-equipped ship may be shown on the display by both AIS and ARPA symbols. This happens because the AIS position is measured by a GPS navigator in L/L while the ARPA target blip and data are measured by range and bearing from own ship. When the symbols are within an operator-set criteria, the ARPA symbol is merged into the AIS symbol. The criteria is determined by the differences in range, bearing, course, speed, etc.
Data Display
A variety of navigational information which is vital for fishing vessels, including own ship status, radar plotting data, wind, water temperature and information from other shipborne sensors can be displayed in the data cells on the right hand side of the screen. The FAR2167DS radar has a unique zoom function which enlarges a part of the radar image twice or three times in size.
When pedestal mounting the standard FAR21x7 display unit MU190, the FAR2XX7PED requires use of the optional display mounting kit FAR-190-BKT, which includes the 008-535-560 bracket and 001-139-360 mounting assembly. Please note that the FAR-190-BKT kit is NOT supplied with the MU190 when the monitor is purchased as an individual component. When retrofitting for an older FAR21x7 monitor installation with an existing 008-535-560 bracket, the use of the 001-139-360 mounting assembly only is required.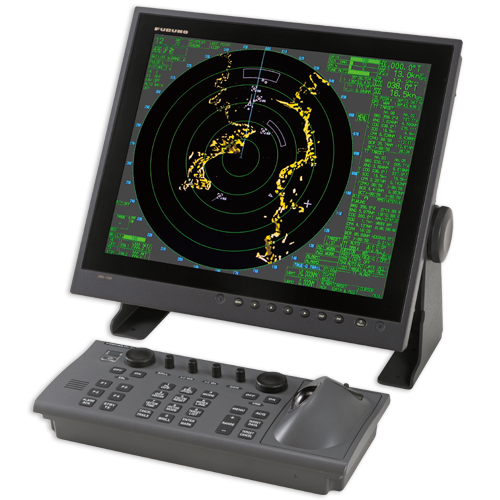 The power and clarity of Furuno's S-Band Radar
The FAR2167DS is a high-performance S-band radar with 60 kW of output power. Detection and tracking of sea birds from a distance has always been very important for commercial fishermen. The noticeable advantage of the FAR2167DS is its capability to detect flocks of seabirds. S-band radar also assures target detection in adverse weather where an X-band is heavily affected by sea or rain clutter. The software and hardware are optimized for fishing operations, and they carry all the standard functions of the FAR-21x7 series. The radar incorporates state-of-the art signal/graphics processing technology together with auto tuning, logarithmic amplifiers and anti-clutter controls, for superb detection on all ranges. Thanks to its graphics processing technology, the echoes are expressively presented with 32 gradations in accordance with reflected echo strength. The anti-clutter controls suppress the unwanted echoes from waves, rain and clouds. The combination of these technologies ensures a clear image, even in rough seas.
The FAR2167DS delivers a variety of useful functions to skippers. Direct Key control allows the operators to activate specific settings with just a few keystrokes. This feature is particularly important to one man fishing operations, where quick setup of the radar according to sea conditions is vital.
Ability to network multiple Radars
The radar can be connected to an Ethernet network for a variety of user requirements. Up to four radar systems, both X- and S-band, can be networked without using an extra device. In addition, the essential navigational information including the electronic chart, L/L, COG, SOG, STW, etc. can be shared within the network.
*Note that the FAR2XX7 radar series has Wheelmark and MED Module B validity until 31 December 2020. Due to its late stage of maturity, the X7 series will not be brought into compliance with minor changes noted in IMO Circular CIR19-0024. Certain class societies may require products to be in compliance, be sure to check with local authorities on required approvals. The full citation of the regulations can be accessed here.
Product Consists Of
Cables
Related Products
Miscellaneous Accessories
Manuals
Product Consists Of
Product Consists Of
$9,595.00
PROCESSOR FAR2167DS 60KW
$1,095.00
Keyboard Control Unit with Trackball & 10m Cable
$12,575.00
Antenna, 12 Foot Open Array
$4,495.00
19" Color LCD Monitor without bracket
$2,695.00
POWER SUPPLY FAR2167DS
$1,950.00
SIGNAL CABLE ASSY 50M FAR2XX7*
Note: List Price Credit for Standard Signal Cable Assembly is $725.00
Cables
Cables
The FAR2XX7 series radar maximum signal cable length using standard cable (RW9600) is 100M. For cable runs of between 101M and 200M, use P/N CBL-2X7-200 (200 meter cable). For cable runs of between 201M and 300M, use P/N CBL-2X7-300 (300 meter cable). Installation should include two optionally available junction boxes, P/N CBL-2X7-BOX.
Related Products
Related Products
$11,995.00
FAR2XX7 CHART RADAR OPTION *
$4,995.00
High accuracy Satellite Compass with a compact 2-sensor antenna. Uses GPS, Galileo and/or GLONASS satellite systems to ensure the highest precision and coverage. 0.4 degree course accuracy
$9,995.00
4.3 Inch Color LCD Display, Satellite Compass with Three GPS Antenna Receivers (0.25 degree Heading Accuracy)
$2,495.00
Compact Dome Satellite Compass, NMEA2000 (0.4 degree Heading Accuracy) w/6M Cable
Miscellaneous Accessories
Miscellaneous Accessories
Manuals
Manuals
$40.00
Installation Manual, FAR2X37S & BB S-Band
$50.00
Operator's Manual, FAR2XX7 Series