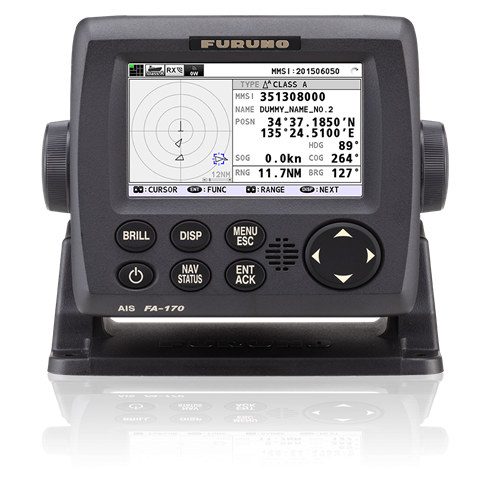 MSRP: $6,995.00
Class A Enhanced AIS Transponder w/ 4.3" Color LCD Display
Available for sale in the US and Canada only
Prices and Specifications Subject to Change Without Notice.
All prices shown are in USD. Prices are valid in US and Canada only.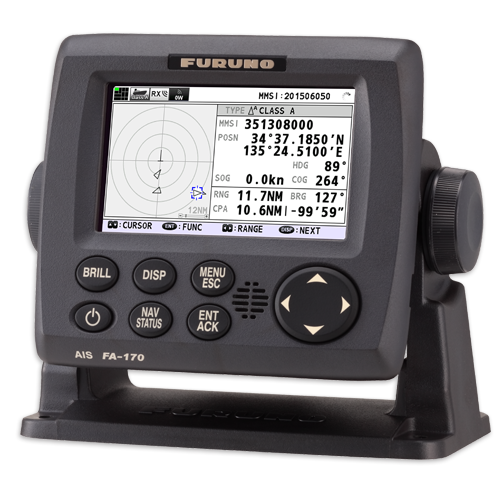 Collision avoidance with an easy-to-use interface
Furuno's FA170E is a Class A Encrypted AIS Transponder with a 4.3" Color LCD Display. It displays symbols for AIS-equipped vessels, AIS-SART's, coastal stations and other aids to navigation within VHF range. AIS data can be output to ECDIS, Radar, or other navigational equipment for collision avoidance support. The FA170E includes 6 in/out ports, 3 input only ports, one LAN port, and one alarm output (contact closure) port. The unit is BAM (Bridge Alert Management) ready, meeting the specific requirements for BAM as specified in IMO MSC.302 (87). An optional Pilot Plug is available.
This compact unit can store up to 2,048 AIS targets and AIS SART's. Selecting a target from the list generates a pop-up window where detailed information is displayed. You can also create an AIS message or send a name request to the target ship. When dangerous targets are detected, the FA170E provides a Dangerous Target list. The FA170E is also capable of exchanging short, safety-related messages with a specified MMSI or all AIS-equipped vessels via VHF channels. The FA170E can store up to 20 transmitted and 20 received messages.
Product Consists Of
Cables
Miscellaneous Accessories
Product Consists Of
Cables
Cables
$85.00
Antenna Cable Assembly, 2 x TNC-P, 15 Meters
$125.00
INTERCONNECT CBL 10M FA170
Miscellaneous Accessories
Miscellaneous Accessories
$150.00
VHF WHIP ANTENNA CX4-3/FEC *
$160.00
DISPLAY FLUSH MOUNT KIT FA1702
$40.00
WATERPROOF REAR KIT FA170
$35.00
REPLACEMNT KIT OP05-140 FA1702
$100.00
ANTENNA FIXING BRKT CP05-14001
$22.00
FA1702 FLUSH MOUNT CUSHION KIT
$350.00
Cable Assembly, Pilot Plug to PC Converter
$250.00
PILOT PLUG TO USB CONVERTER 1M*
$1,670.00
The GVA100/DB1 is a GPS/VHF combination antenna with DB1 Junction Box. This product does not include the required VHF antenna. A UAIS rated VHF Antenna is a required option - use CX4-3 or purchase locally.