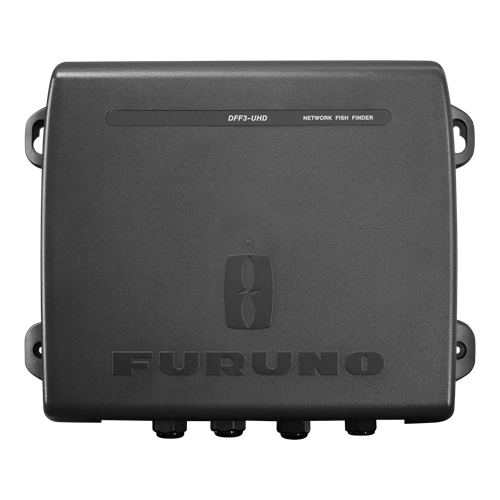 MSRP: $1,995.00
High-Power TruEcho CHIRP Fish Finder for NavNet TZouch3 MFDs and the black box TZT2BB. Includes 5M LAN Cable. Less Transducer
Display SizeSupplied Separately
Display TypeSupplied Separately
FrequencyCHIRP 25-242 kHz
Prices and Specifications Subject to Change Without Notice.
All prices shown are in USD. Prices are valid in US and Canada only.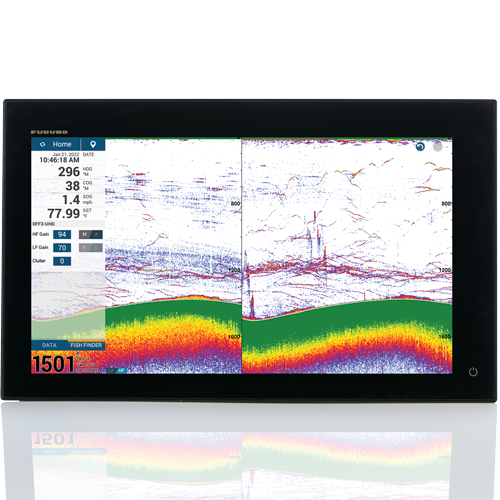 Go deeper with more power than you thought was possible
The DFF3-UHD High-Powered TruEcho CHIRP Fish Finder delivers the ability to see fish and bottom structure deeper and clearer than ever before. Furuno's superior digital signal processing interprets the echoes from fish and underwater structures with unparalleled clarity, accuracy, and resolution at unprecedented depths - we're talking depths down to 15,000 feet! Capable of transmitting across Low, Medium, and High CHIRP ranges, its high power output translates directly into greater resolution and depth capability than a comparably powered standard Fish Finder.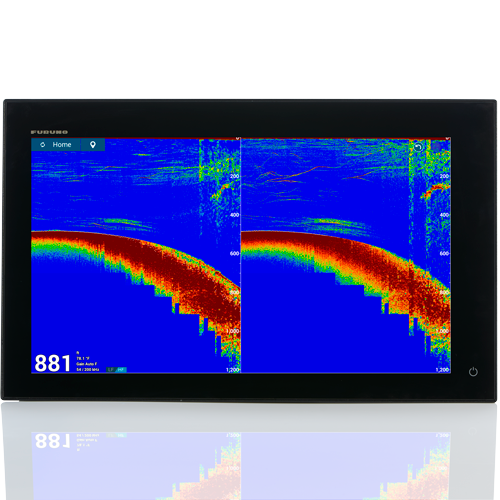 Plenty of power and wide frequency range to Go Deep!
The DFF3-UHD provides an incredible 2kW or 3kW of power to a compatible broadband transducer, transmitting across a spectrum of frequencies to ensure that the echo returns on your display come back sharp and clear at every range. Gathering more and higher-quality data than traditional high-power CW Fish Finders, the DFF3-UHD provides significant advantages in signal clarity and target definition. This helps you find more of your target species, game fish and baitfish, even when they are tightly schooled together or near the seafloor. The DFF3-UHD transmits and receives pulses across a combination of Low, Medium, or High frequency ranges with each transmission, showing returns from bait balls and individual fish targets virtually anywhere in the water column.
Cables
Chirp Transducers
Transducers
Miscellaneous Accessories
Cables
Cables
$140.00
CABLE ASSY FRU-3P-FF-A002M-001
$55.00
LAN CBL ASSY 2M RJ45XRJ45 4P
$65.00
LAN CBL ASSY 5M RJ45 X RJ45 4P
$100.00
LAN CBL ASSY 10M RJ45XRJ45 4P
Chirp Transducers
Chirp Transducers
For a complete list of compatible chirp transducers, including models not offered by Furuno USA, click
Here.
$2,500.00
Urethane, 2kW Tank/Cavity/Pocket Mount CHIRP Transducer, 38-75kHz and 130-210kHz
$4,600.00
Urethane, 2kW Tank/Cavity/Pocket Mount CHIRP Transducer, 38-75kHz and 80-130kHz
$4,995.00
Urethane, 2kW Tank/Cavity/Pocket Mount CHIRP Transducer, 40-60kHz and 80-130kHz
$3,400.00
Urethane Thru-Hull Transducer with Temp and High-Speed Fairing Block, 38-75kHz & 130-210kHz, 2 kW (No plug)
$3,080.00
DF 38-75 & 130-210 KHZ
$5,100.00
Pocket Mount Combo Transducer Low/High Wide CHIRP for (30-60 kHz and 150-250 kHz), DI-FFAMP, and DFF3D Multi-Beam Sonar (165 kHz) only
$5,100.00
Pocket Mount Combo Transducer Low/Medium TruEcho CHIRP for FCV1900/FCV1900B (30-60 kHz and 80-130 kHz), DI-FFAMP, and DFF3D Multi-Beam Sonar (165 kHz) only
$4,995.00
Urethane, 1-3kW Cavity/Pocket Mount CHIRP Transducer, 28-60kHz and 150-250kHz
$7,360.00
Urethane, 2-3kW Tank/Cavity/Pocket Mount CHIRP Transducer, 28-60kHz and 80-130kHz
$4,400.00
Urethane, 2-3kW Thru-Hull CHIRP Transducer with Temperature and High Speed Fairing Block, 28-60kHz & and 130-210kHz
$4,995.00
Urethane, 1-3kW Thru-Hull CHIRP Transducer with Temperature and High Speed Fairing Block, 28-60kHz & and 150-250kHz
$5,000.00
Urethane, 2-3kW In-Hull CHIRP Transducer, 28-60kHz & and 130-210kHz
$5,300.00
Urethane, 2-3kW In-Hull CHIRP Transducer, 28-60kHz & and 80-130kHz
Transducers
Transducers
5 kW and 10 kW transducers can be connected to the DFF3-UHD via the BT-5
Miscellaneous Accessories
Miscellaneous Accessories
$1,100.00
28khz and/or 50khz Booster Box, 5kw
$975.00
RECTIFIER AC/24VDC
$860.00
Dedicated Interswitch Hub for NavNet 3D
$40.00
RJ45 TO RJ45 WATERPROOF COUP