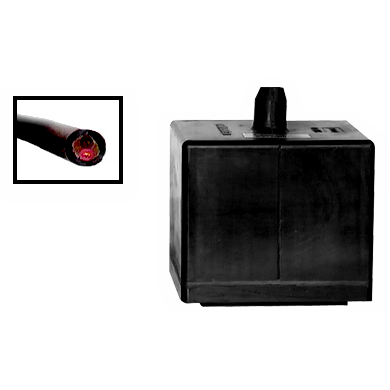 MSRP: $1,110.00
Rubber Coated Transducer, Type 28F-8, 1kW (No Plug)
Beam Angle31 x 34 Degrees
Prices and Specifications Subject to Change Without Notice.
All prices shown are in USD. Prices are valid in US and Canada only.
Transducer Features
You can pair this transducer with the CA28BL-12HR. This combination will provide a wide and narrow directional pattern, as well as a combined 4kw of transmitted power into the water. This combination is good for Tuna, Marlin, and Sailfish.
Standard Features
31 Degree x 34 Degree beam angle
1 kW 28 kHz
Rubber Coated - Chest or Tank Mounted
15-Meter Cable, no connector provided
13.2 lbs.
Miscellaneous Accessories
Miscellaneous Accessories
Miscellaneous Accessories
$3,000.00
Tank for Steel Hull, CA28F-8
$22.00
Transducer Plug, 4-Pin Round (1 Piece Required for Each Frequency)
$1,605.00
Tank for Steel Hull, Dual Transducer, CA28F-8 and CA50B-9B
$1,605.00
Tank for Steel Hull, Dual Transducer, CA28F-8 and CA88B-8, or CA28F-8 and CA200B-8B