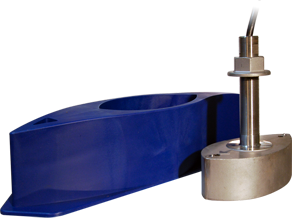 MSRP: $1,495.00
Stainless Steel Wide Beam Thru-Hull Transducer with Temp and Fairing Block, 1 kW (No Plug)
Housing TypeStainless Steel
Shipping Info24 lbs, 24x19x7
Prices and Specifications Subject to Change Without Notice.
All prices shown are in USD. Prices are valid in US and Canada only.
Transducer Features
Airmar SS270W Housing Style Transducer
The 556TID-HWD is the industry's first 1 kW twin wide-beam, 50 kHz and 200 kHz dual-frequency transducer. This unique design gives extra beamwidth to spot more fish in shallow to mid-water depths. This thru-hull provides four times the beamwidth at 200 kHz than other high-performance transducers. This means marking game fish or bait in a larger area, thus increasing the catch.
Since the beamwidths are the same at both frequencies, a split-screen fishfinder display will clearly show the same water column and bottom coverage. Fish will also appear as arches of the same size and position. More fish will be marked while trolling or underway. At anchor, see which direction the baits and chum are flowing in the current. The custom-fit High-Performance Fairing will give crystal-clear imaging at speeds up to 30 knots (34 MPH). And since the 556TID-HWD fits into the popular B260 fairing pocket, it's easy to upgrade existing installations.
Standard Features
Identical wide 25° beamwidths at 50 kHz and 200 kHz
1000 Watts Power
50/200 kHz with Diplexer
Stainless Steel Thru-Hull with Temperature
10-Pin Connector
High Speed Fairing Block included